Hanyi Acupuncture Needles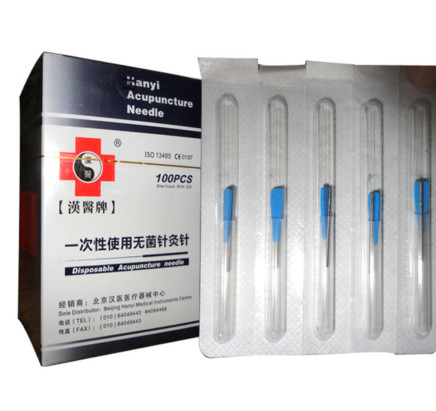 Product Details
AUST TGA registered.
HANYI® single-use sterilized acupuncture needles will give both you and your patients a pleasant surprise: they are pain-free for your patients and you would feel minimal resistance when using them. Acupuncture treatment will no longer be a nerve-racking experience!
They are researched and made by acupuncturists and specialists in China, with extensive amount of clinical trials. They are tried and approved by doctors in many hospitals. Annual sales reached billions and many exports to USA, UK, South Korea and South-East Asia.
The advantages of HANYI® single-use sterilized acupuncture needles:
1. Produced by standardized all-machinery process
2. Reliable and stable quality
3. Very sharp needle point for minimal resistance and pain-free insertion
4. Strong yet flexible needle body with special stem for better control
5. Sterilized by the most advanced γ rays, eliminating the possibility of cross contamination
6. Single use and individually packaged
7. Passed ISO9002, as well as CE and FDA accreditation.
Caution: Sterilization is valid for 3 years. Please store in well ventilated dry place. Please do not use if the packaging is broken.
Price Reductions
| Quantity | Price |
| --- | --- |
| 10+ boxes | $5.5 |
| Per Box | $5.5 |
Selection: Hanyi Acupuncture Needles
Product no.
Gauge (mm)
Length (mm)
Price
Quantity