Kunlun premium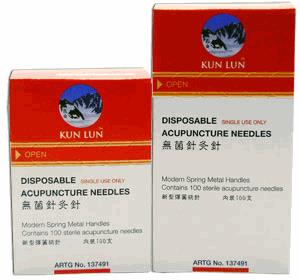 Product Details
A new offering from Kun Lun Needles. From the same quality brand, these however are the "Premium" edition. Why not take the "Premium Challenge"and save more money while trying a using one of the best.
Comparable to nothing these needles outperform others at twice the price. Our newest needles were specially designs with Australia Practitioners in mind. Generally in Australia we want a needle that is ultra sharp yet we can still feel the Chi with only gentle insertions. We also demand value for money. We don't mind paying for quality but hate cheap rough needles or overpriced big brand. Kun Lun Premium meets the demands of the modern Chinese Medicine Practitioner and help lower operating costs by being sensible priced.
Price Reductions
| Quantity | Price |
| --- | --- |
| Per Box | $10.95 |
| 10+ boxes | $8.48 |
| 100+ boxes | $7.15 |
Selection: Kunlun premium
Product no.
Gauge (mm)
Length (mm)
Price
Quantity
KLGP2030
0.20mm
30mm
$10.95
KLGP2230
0.22mm
30mm
$10.95
KLGP2525
0.25mm
25mm
$10.95
KLGP2530
0.25mm
30mm
$10.95
KLGP2540
0.25mm
40mm
$10.95
KLGP3040
0.30mm
40mm
$10.95
KLGP3050
0.30mm
50mm
$10.95
KLGP3075
0.30mm
75mm
$10.95